December 23, 2009
McDonalds and the Writing on the Wall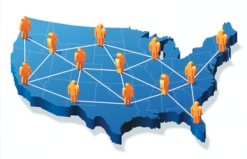 Last week McDonalds publicly announced that starting in Mid January 2010 11,000 of its US restaurants will offer free WiFi. If the inquiries on WiFi Hotspot services for restaurants that have been coming in since this announcement are any indication, this new strategy is going to change the whole playing field for Quick Service Restaurants in the USA. Let's take a look at what is directing this move.
The Big Three of search engines have gotten into the WiFi game for the holidays. Bing, Yahoo and Google are all executing new plans to utilize free managed WiFi access to connect people with information, gain bigger audiences and increase loyalty. This tells us that WiFi is being used by consumers while they are away from their homes and offices in big enough volumes that the Big Three of search engines is looking for ways to tap that market. Second it shows us that WiFi is an excellent vehicle to drive traffic to where you want consumers to go online. Third it shows that WiFi, when used as a managed service, can be used to garner loyalty and increase awareness of products/services. If Google, Yahoo and Microsoft see that public WiFi is a strategic advantage, shouldn't other industries take a look to see if similar managed WiFi marketing strategies can help them reach their goals?
AT&T's latest usage statistics show explosive growth in Public Hotspot usage. In the second quarter of 2009 AT&T reported 15 million sessions at their Hotspots across the USA. In their latest report, WiFi usage is up to 25 million sessions. That is a growth of 66% in a single quarter! Not surprisingly 60% of that usage was by consumers using smartphones. See release here. Now add that to the latest report that shows that one quarter of all internet traffic used on smartphones is over WiFi. With the industry acknowledging that the 3G networks are being over taxed and that the mobile carriers are encouraging subscribers to switch to WiFi when it is available, this trend will only grow.
The hot tech toys this year are netbooks and WiFi enabled smartphones. In 2009 most of the major laptop makers came out with their own version of Netbooks. For those of you who are not sure what the difference is between a netbook and a notebook/laptop computer the main difference is portability. The netbook is ultra light and small enough to fit into a purse. It is designed to be used to surf the internet while you are out and about and preferably in spaces that offer WiFi. The Google Android phones have really had a big surge in popularity. Touted as iPhone killers these devices can easily go head to head with the very popular WiFi enabled iPhones. The Palm Pre is also popular and of course it features WiFi
I have always thought that in order to remain competitive that it is necessary to look not just at trends in your own industry but look at trends of consumers in general. It seems that McDonald's has done just that. The consumer trends points to explosive growth of mobility and of online access at WiFi Hotspots. I am sure that social networking sites like Twitter and Facebook are no small factor in feeding peoples addictions to being online and connected. My prediction for 2010? WiFi Hotspots in the restaurant industry will play a large role in many companies growth strategies. Even if it is just to keep up with the Joneses.