January 13, 2010
Restaurateurs: Get Your Tech On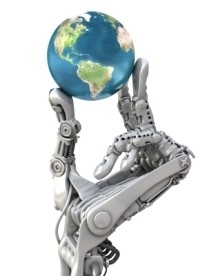 The word of the year for 2009 is "Tweet". The word of the recently past decade is "Google". McDonalds is rolling out Free WiFi in 11,000 of its US locations this month. What does all of this mean to you and your business? It means that it's time for restaurateurs to get their tech on.
With the word of the year being "Tweet" this gives us the insight on how a very large demographic of the American people are geared toward using Twitter and other social network sites to connect with each other. A large number of stories came out in 2009 about the success that many restaurant brands have had using Twitter and Facebook to deliver special coupon codes, and promote new menu items. If you have any plans to spend money on marketing new menu items or deliver coupons to potential customers in 2010 you would want to be able to measure effectiveness in a quick and timely manner. Quick responses and a more personal connection to your "fans" is what you get with Social Media and it's what you don't get from print, radio or television advertising.
How is your searchability doing? In other words how are people finding your restaurant? I will be willing to bet that if you were in the mood for Mexican food you would not use the yellow pages to look for the nearest Mexican restaurant. Stop, take a moment to open up a new browser window and go to www.Google.com then type in "Mexican Restaurant". You will find that the most prominent feature is a map showing multiple Mexican restaurants in your area. Click on one of the alphabetized balloon markers and you will go to the website for the restaurant it is associated with. Click on the map and you will be able to find out more info on all of the listings and get directions to any of them. This is not by chance; this was done via Google's local business center. If you own multiple locations you will increase your chances of getting found by putting each and every one of your locations in the local business center listing.
Does your restaurant offer free WiFi, if not why not? Forget for a moment the fact that Hotspot usage is surging. It will just be a matter of time before your biggest competitors offer it and shouldn't you be able to offer the same amenities as your competitor? People who use WiFi overwhelmingly prefer to frequent places that offer them this amenity over those that do not. If you do offer the service, do you offer just an open WiFi connection? If so, rethink that strategy. Just offering an open wireless connection is like leaving the front door off of your house and allowing any anonymous stranger walk in and out whenever they choose. Use a managed restaurant WiFi Hotspot service to achieve the other goals mentioned above, it's inexpensive and it's effective. With this type of service you can use a welcome screen to connect people with info on new menu items and collect their email information to send them coupons later on. Use it to redirect them to your Facebook fan page or Twitter page to build your online audience. Increase the chances of your location being found online by listing this amenity being available in your local business center and on sites like Yelp and Urbanspoon.
If you have been on the fence about opening up your locations to this mad world of online machinations just look at what is driving the world. It's about being online and connecting to people in a way that they connect with each other. 2010 is definitely the year to get your tech on.