October 13, 2010
Buying Local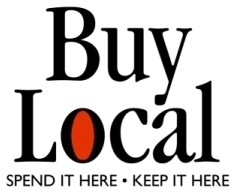 There is a growing trend in this economy about buying locally to support your community. This is a great idea and national companies can benefit from it as well. After all, even a national chain employs local people in any given community, pays local taxes and supports local causes. There are some great online applications to reach people and engage them locally while existing nationally. Location based tools will have to be part of your marketing arsenal if you are to remain competitive and inspire brand loyalty.
Google Places- Claim your business listing on Google. This one is about good old fashioned Findabilty. In other words, help people who are looking for a business like yours, find yours faster. When someone on Google is looking up Thai Food in Cleveland for instance the site will push up the Google Places listings up toward the top of the page in a Map box. Click on one of the balloons and you will see whatever the business decided to add in. Hours of operations, photos, even coupons if they would like. This is your opportunity to outshine your competitors and draw the searcher to you. There is even a bulk upload option for companies with more than 10 locations.
Foursquare- Check in, Find Friends, Unlock your city. Hopefully your venue already has a Foursquare location set up. If so, that means that people are playing and you can help make it more fun! Use this hugely popular tool to create incentives to come by and check in. Create an incentive for the new Mayor such as a free sandwich. If someone adds a tip, let them get a freebie such as a side item or beverage. Give them a bigger reason to be there while on Foursquare.
Facebook Places- Who, what, when and now Where. Facebook Places is a newer online tool and not dissimilar to Foursquare. The added benefit of this tool is the viral marketing power of the big daddy social network. Use similar tactics for this as described for Foursquare. In other words encourage loyalty and repeat visits with rewards for check-ins. You should see a return on your investment of time in very short order.
Twitter 2011- Coming up on Twitter next year will be a pay for play way to use Tweets to advertise locally. This upcoming feature was just announced and there is no real detail yet available on how it will work. But considering the overwhelming popularity of this microblogging website I think that it is something that should be watched and perhaps considered in your 2011 marketing plans.
When it comes to current marketing trends location based tools are a sure bet to gain the loyalty of the locals. Here the adage is true for your business: Think globally but act locally.