January 2, 2018
Happy New Year and Welcome to 2018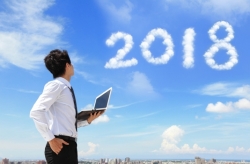 We would like to wish you all a happy new year and our best wishes to you moving into 2018. We had a great year in 2017 and we were lucky to be able to work with so many new as well as long time clients on helping you to improve your brands and customer base as well as customer engagement and communication. We are constantly striving to provide you all with the very best products and customer service and we work hard to provide you with the best features to help you connect to your customers.
One WiFi has released a whole host of new apps and features that many of you have provided us great feedback on and we will continue to grow our arsenal of features and equipment throughout 2018. For those of you who have not yet had a chance to discuss implementing our newest features or who are not aware of our latest offerings please feel free to contact us.
Many of our existing clients have shown significant growth through 2017 and we are constantly hearing that your brands are expanding and new locations are opening frequently so I would like to say congratulations on your success. For all of our newer clients we have very much enjoyed getting to know you, your brands, and your companies and we are happy to work with you every day to develop new and personalized ways of interacting and communicating with you client base.
So as we all transition into 2018 I would like to thank you all and wish you all luck in your endeavors.