October 11, 2018
WiFi- the best connection to digital marketing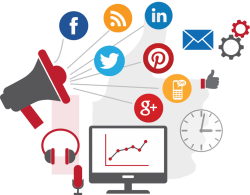 Restaurant WiFi, Property WiFi and retail WiFi all have an edge on competitors that do not offer the service at their locations. However, there is an added benefit that they can also use to gain a bigger advantage. Today, managed WiFi is an additional vehicle for digital content delivery and can easily be used to connect customers with a brand's digital content at the point of purchase. To compete in today's digital landscape, brands need to do more than just push content to customers' phones, tablets and laptops. If leveraged well, managed WiFi can help make brands omnipresent. Here's how:

1. Create Engaging Content

Think of the places you regularly go for a sandwich or coffee. Now think of the last time you've been to their website, if ever. WiFi allows for customers to be pushed to key pages on the brand's website every time the WiFi is used. How long they stay there is dependent on the content.

To create more engaging content, brands should be conversational and talk to customers the same way they would talk to their own friends and family. Include photos and videos, and interact with customers on the platforms they're already spending time on, such as Instagram, YouTube and Snapchat.

Brands with multiple locations can hyper-localize the content, and the wireless access points at each location can deliver customers to web pages designed for that specific location or metro area. This allows for very targeted campaigns and a more customized user experience.

2. Respect User Privacy

A location's WiFi session can also connect the customer with your brand's social media properties. I'm a fan of putting all of the social media properties in front of the customer after logging in as opposed to using social WiFi as part of the log-in process. This way, the customer won't feel forced into doing anything they may not want to do, and it allows them to retain more of their privacy. This method allows the customer to choose how to interact with the brand after they've left the location.

3. Offer Value


Using WiFi as part of an in-store marketing strategy creates opportunities to interact with the customer and enhance their brand experience. It can be used to push information to customers' phones about what's on sale or connect them with offers to entice more purchases. A business could also put a download link to the brand's app right in the palm of the customer's hand. Since it's all location-based, brands can automate the marketing to push different content to different locations and demographics across the country.

An advantage of pushing content via WiFi is that it's effective without being aggressive. Information delivery can be as casual as a standup sign but is guaranteed to be seen and can be interactive. Plus, brands can easily change the message that customers see each time they log onto a WiFi session to serve fresh content daily if need be.

Marketing to consumers on-site helps enhance and enable marketing efforts beyond the point of purchase, too, like helping brands build more fans and followers on social media platforms. The point of purchase is the best time to get the company's Facebook or Twitter page right in front of an audience that's most likely to follow them. Businesses could also use WiFi to funnel traffic to a brand's loyalty program and incentivize customers to sign up.

In today's digital marketing ecosystem, managed WiFi has earned its place as a central element and can be put on auto-pilot to deliver relevant and targeted content at a hyper-localized level. It integrates well with other digital elements and creates a symbiotic relationship with a brand's existing digital assets.

Early on, public WiFi was seen as a draw to attract people to locations. Later, it was used as an opportunity to connect people with information. Today we see it leveraged as a location-based tool. In the near future, I see these attributes being combined to better leverage both corporate brands and public spaces. Cities and towns can use it to enhance their tourism product and be more competitive for conventions and the tourist dollar. Arts, cultural and historic locations will use WiFi to enhance the visitor experience through better engagement.

When properly deployed, strategic WiFi will level up customer engagement by delivering interactive digital content that enhances the customer experience. In short, strategic WiFi is an opportunity to get a stronger connection to the customer.