February 15, 2019
WiFi Marketing- What it is and how your business can benefit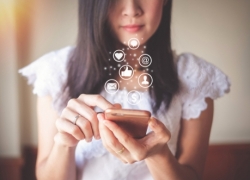 WiFi Marketing- How your business can benefit from it.
WiFi has been leveraged in business marketing strategies since before the advent of the smartphone. I'm not talking about just collecting emails to send people promotions and coupon codes. Public Wi-Fi was one of the first forms of digital signage available. Today it takes on a new role in the digital marketing ecosystem from the point of purchase and well beyond.
How has WiFi Marketing Been Used?
In the past innovative brands used public WiFi and guest as a guerrilla marketing tool for nearby consumers. If a brand had locations in a strip mall, it would be sure its signal passed the walls, into the neighboring businesses and parking lot. This way, the brand could control the messaging for people using the WiFi. This approach gave businesses a "billboard" to promote themselves and incentivize people to patronize their business instead of nearby competitors.
WiFi marketing Today
Using WiFi as part of an in-store and point of purchase marketing strategy creates opportunities to interact with the customer and enhance their experience with your company. It can be used to push information to customers' phones about what's on sale or connect them with offers to entice more purchases.
If you already have promotional graphics made up that you use online for your website, Facebook or ads then you can re-use those digital images to get them in front of your customers with your WiFi. WiFi is an additional vehicle for digital content delivery and can easily be used to connect customers with a brand's digital content at the point of purchase.
The Benefits of WiFi Marketing
Increased sales:
The objective for any location that offers WiFi is to increase sales. Utilize WiFi Marketing to drive sales, boost your customer base and increase the rate of repeat visits .

Guaranteed views of your promotions:
Before customers can get to the internet you have several opportunities to get your promotions in front of them and ensure that they are seen.
Increased Fans and followers:
All of your Social Media pages can be put in front of your customers when they use WiFi . This allows them to choose how they will follow you be it Instagram, Facebook or any other social platform that you may use to promote your business and engage with your customers.
App Downloads:
If your company offers an app, then the best time to increase downloads is when people are using your WiFi connection. You can push links to the app right to your customer's phones.
Loyalty Programs Get More Sign Ups:
Loyalty programs see a big boost when the customer is sent to the loyalty program sign up page. You can also collect email addresses in for opt-in email campaigns during the login process when people use WiFi at your business.
Different locations, Different promotions:
WiFi Marketing gives you the ability to customize your campaigns for each location. This allows you to promote different items and specials that are available in specific locations.
Automated:
WiFi Marketing is an incredible opportunity to automate your marketing. Once it is set for your location, the system will handles things from there. Plus you can make changes or updates at any time.
How to Get Your WiFi Marketing Up and Running:
It's pretty simple. Contact us One WiFi has it's own set of unique features that are all designed to increase your sales and boost your customer loyalty. We provide you more capabilities so you won't be boxed in on your ability to build a better connection to your customers.