June 7, 2021
Outdoor WiFi- A Fresh and Simple Approach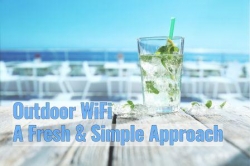 Customers and Seasonal Outdoor Spaces
With the warm weather here, restaurants will start open up patios and sidewalk dining. Property managers will open up their pool areas, green spaces and rooftop areas. This is an excellent opportunity for businesses to use the great outdoors to build stronger customer connections, and it's far easier than you might think.

In 2004 our parent company eWireless deployed the first outdoor public WiFi Hot Zone in the state of Indiana. This zone of WiFi connectivity covered the heart of downtown Indianapolis called monument circle. This was done not only as a tech amenity for the downtown area, it was an interactive way to engage with the area visitors. Outdoor WiFi is also as a way to connect users with info on upcoming events, local promotions and is an opportunity to engage them with digital content. Since that first Hot Zone was created, there has been great leaps in technology and deploying outdoor WiFi for areas both large and small can now be done quickly and easily.

One WiFi's Mesh Wireless Access Points ( WAPs) easily auto-configure to expand the signals to reach areas where WiFi connectivity may be weaker. The 2nd WAP only needs electricity and it will be ready in under five minutes of being plugged in. The fact that our equipment is designed for indoor/outdoor use means that you can have them plugged in outside with no worries about weather conditions. Many times, a 2nd WAP is not needed. Our standard equipment is powerful enough to send a usable WiFi signal over three kilometers in an unobstructed environment. To get the signal to an outdoor space, in most cases you need simply adjust the placement of the WAP and point it towards the outdoor area.

Our equipment is also engineered for Power over Ethernet (PoE). This means that the WAP does not need to be near an electrical outlet to get electricity. Electricity can be supplied over the same cable that provided the internet connection. This along with the weather proof design allows the WAP to be placed nearly anywhere.

Need some tips on how to deploy WiFi outdoors?
Just contact us, we are ready to get you started.